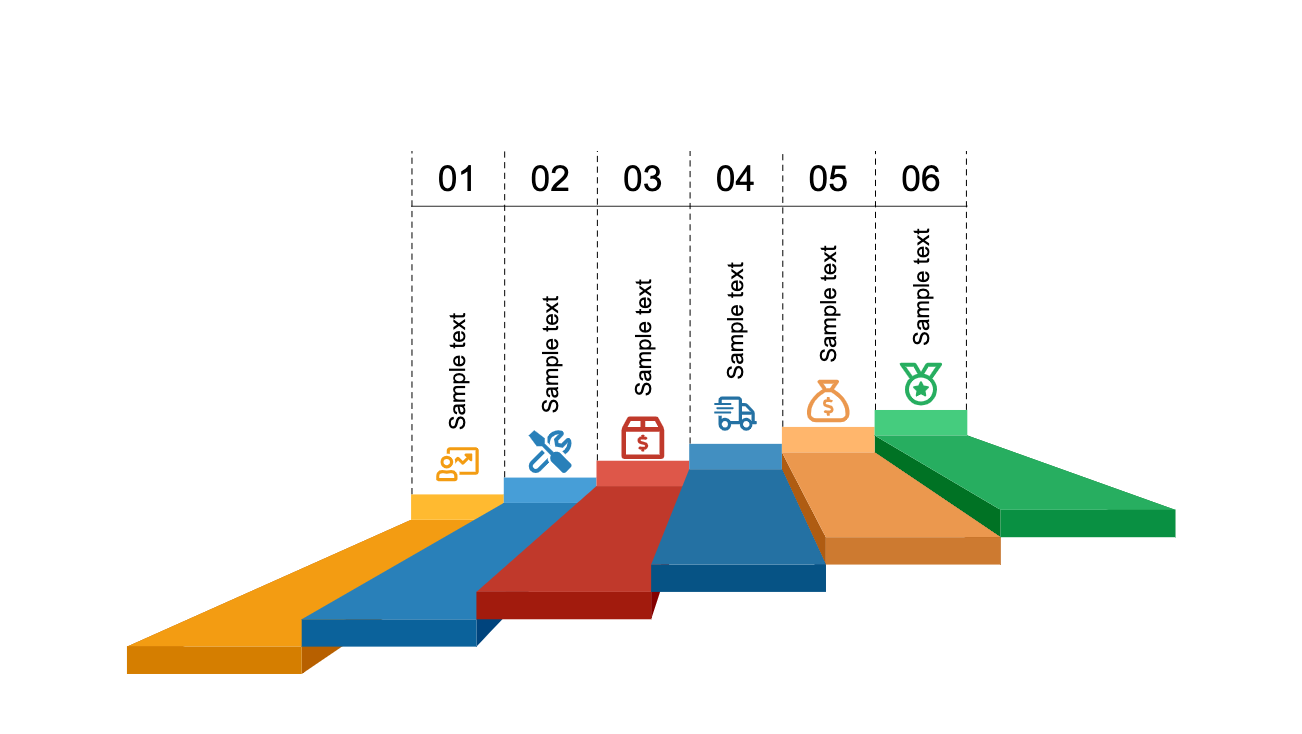 The Stairs & Steps Diagram for PowerPoint contains colorful step ladder shapes that are arranged in a subtly rising diagonal. A major use of the slide designs is for presenting six steps business processes. The icons found on the slides suggest that the PowerPoint template is helpful in the planning stage of the business plan or for presenting a hierarchy of company positions.
The stairs are primarily used to show a set of plans. The stairs represent the process of moving from one step to another as each is completed. The ascending pattern illustrates the way the steps move to a higher level, from the base to the top. The stairs can be used as a metaphor to represent the idea of bridging one situation, such as a problem, to another situation, where the problem has been resolved.
The steps are colored yellow, orange, blue-green, yellow-green, blue, and maroon. The steps are designed so a tab at the relatively far end of each step can include a rectangular strip that contains a number label, a text placeholder, and a minimalist icon in the same color as the step they are representing.
The steps may represent a certain level or pay grade in the business organization. The bottom step in the sequence can represent an entry-level job; while the highest tier can represent the highest-ranking position, such as the CEO or a member of the Board of Directors. This is important in establishing the chain of command for easy information and instruction dissemination.
The user can apply the stairs diagram to maturity level, generally used in process quality contexts.
The vector shapes in Stairs & Steps Diagram for PowerPoint look simple yet very attractive on any business presentation. The PowerPoint Shapes are fully editable and can be modified depending on the need of the user. The presenter can choose to browse additional PowerPoint Diagrams from our gallery and complement the presentations with additional graphics.