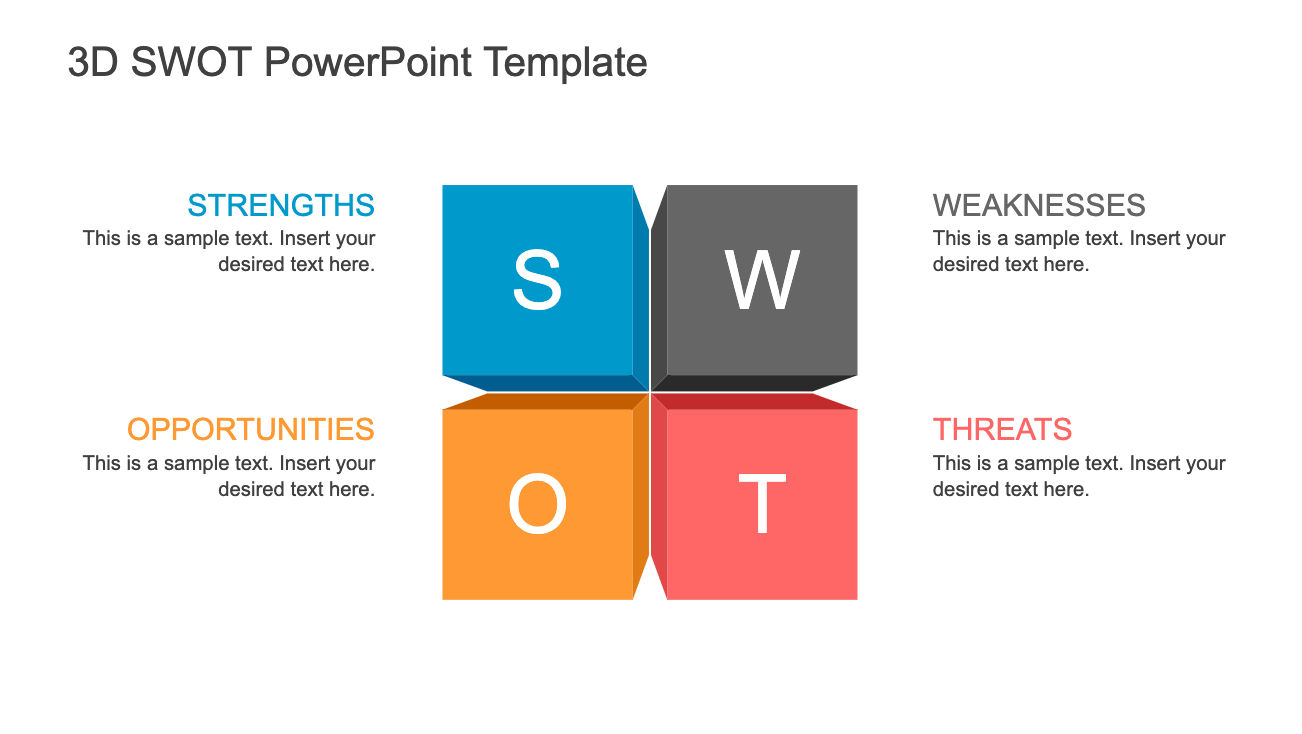 The 3D SWOT Analysis PowerPoint Template Concept is a business strategy model design. The SWOT template could help present analysis and matric for project and process evaluation. It is one of the simplest and common business analysis tools that helps develop and improve strategic plans. SWOT is basically an acronym for 4 internal and external factors that may affect performance or growth. These factors include internal strengths and weaknesses, and external threats and opportunities. The analysis model enables professionals to gather information about business strengths, weaknesses, threats, and opportunities. In this way, they can develop a strategic development plan to take advantage of strengths and opportunities. While preventing threats and overcome weaknesses.
The 3D SWOT Analysis PowerPoint Template shows 4 colorful blocks with 3D shape effects. Each block represents one of four SWOT factors using bold letters. Further, there are the text placeholders beside each 3D PowerPoint shape to enter important textual content. The SWOT PowerPoint template contains 5 slides, out of which, 4 highlights one segment per slide. This PowerPoint SWOT analysis template is a fully editable design. Therefore, users can change shape colors, 3D rotation, or resize easily. Furthermore, add clipart icons and shapes to represent SWOT analysis evaluation factors.
The SWOT analysis PowerPoint is a professional business strategy design that suitable for goal setting, marketing plans, and change management. The SlideModel offers a wide collection of SWOT analysis and matrix PowerPoint templates. Take a look at these SWOT PowerPoint templates including SQERT and PEST analysis presentations.